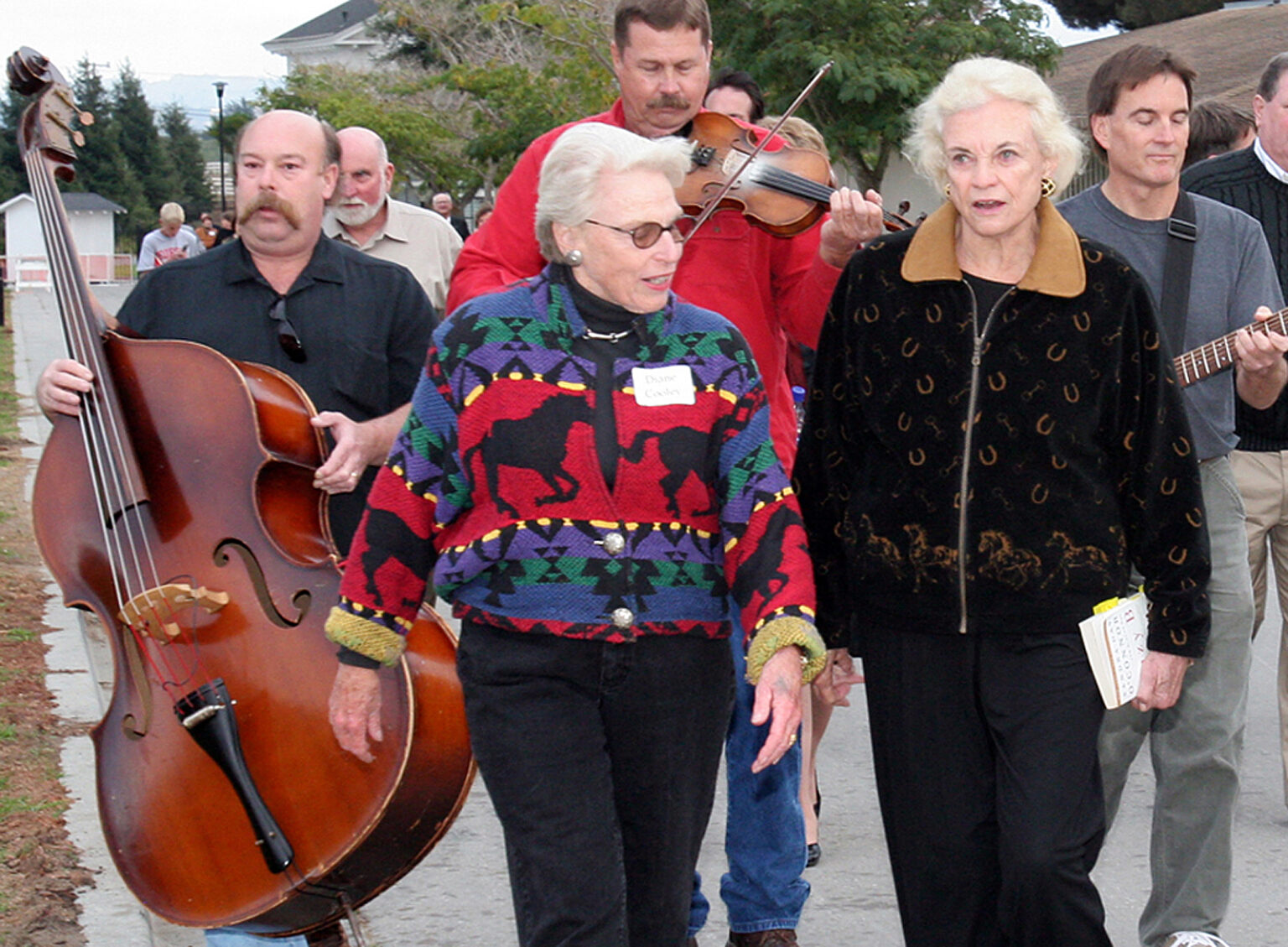 'A force of nature': Land conservation pioneer Diane Porter Cooley dies
Diane Porter Cooley's family history dates back to her childhood in Santa Cruz County. His farmland and forest conservation efforts helped build the foundations of the county's environmental ideology and reshape how the nation viewed farmland protection. Cooley died Thursday at her Pajaro Valley home at the age of 93.
"She was an incredibly joyful, powerful and extraordinary force of nature," says her daughter Anne Youngblood. "And no one would dispute that."
Cooley harbored a deep and enduring love for the Pajaro Valley and its history, as well as an appreciation that farmland should be preserved as working land. This belief inspired her to donate her homestead – the Circle P Ranch – to the Land Trust of Santa Cruz County in 2001 as a conservation easement.
This decision ended up setting a nationwide standard for how communities keep their farmland free from development while retaining it as working land. It was made all the more impressive by the fact that Cooley first had to quell the concerns of a skeptical community, says Sarah Newkirk, chief executive of the Land Trust.
"She had an undeniable transformational impact on the Land Trust," said Newkirk. "It transformed our whole business model."
These efforts, says Newkirk, made Cooley something of an "ambassador."
"She was able to assure them that working hand in hand with the conservation community was not risky, that it had benefits for wildlife and people," she said. "It transformed the movement of land trusts across the United States."
Youngblood says Cooley's great-grandfather, John T. Porter, arrived in the area in 1850, just a year before he was considered a pioneer. He nevertheless made his mark by becoming at 22 the youngest sheriff in the history of Santa Cruz County. He was also appointed Customs Officer of Monterey County by President Abraham Lincoln.
More importantly, he also became the owner of vast amounts of land, she says, paving the way for the family inheritance.
Cooley's father, Tom, was one of the founders of Driscoll's Berries.
For his part, Cooley helped found the Elkhorn Slough Foundation and the Pajaro Valley Arts Council. She has also been involved with the Community Foundation Santa Cruz County, UC Santa Cruz Arboretum, Santa Cruz Symphony, Cabrillo Festival of Contemporary Music, and Second Harvest Food Bank.
She was also part of the Agricultural History Project and the Santa Cruz County Fairgrounds Foundation/Rogers House.
Cooley also led Youngblood's Girl Scout troop, creating an environmental merit badge and leading outdoor excursions that included trail building and stream cleaning.
Local historian Sandy Lydon, who served with Cooley on the Citizens' Advisory Committee for Nisene Marks State Park in the 1960s, said "a light went out."
"It was a gun," Lydon said. "I can't imagine this place without her. She brought perspective. For historians, she was the glue that held everything together.
Lydon says Cooley worked effectively with many political factions throughout the county.
"She was a link to the past," he said. "She paid so much attention to her family history. And she remembered everything. She had a bear trap memory.
Born October 15, 1928, in Oakland and raised at Los Lomas Ranch, Cooley graduated from Watsonville High School in 1946 and attended Stanford University, where she earned degrees in political science and economics.
It was there that she met her future husband, Don Cooley, with a marriage that lasted seven decades. The couple had two children, Anne and Steven.
She was named Woman of the Year by Congressman Sam Farr in 1988, and 10 years later was named Farmer of the Year by the Santa Cruz County Farm Bureau.
She won the UCSC Fiat Lux award in 2013 with her husband.
Former Watsonville senior analyst Doug Mattos says he enjoyed chatting with Cooley.
"Every conversation turned into a great story, and she loved sharing something new about the Pajaro Valley and beyond," he said.
Longtime friend and Santa Cruz County Fairground Board Member Loretta Estrada describes Cooley as "one of the smartest people I've ever known."
"If she ever told a story, you could say she knew so much, especially about the Pajaro Valley," Estrada said. "What she had to say was very important."
Estrada says she remembers Cooley wearing fancy western clothes to local events.
"(She) was so proud of her Western heritage," Estrada said. "I think she was still riding at 90."
Pajaro Valley Water Management Agency Board Chair Amy Newell first met Cooley when Pajaro Valley Action was formed when the community was involved in establishing the urban growth rules – now known as Measure U – which protect farmland.
"She was never shy about speaking her mind, regardless of political correctness," Newell said. "She was funny and had a good sense of humor."
Watsonville/Aptos/Santa Cruz Adult School principal Nancy Bilicich said Cooley was "an amazing woman who was extremely strong." Cooley's contribution during a recent assessment helped the school earn its six-year accreditation from the Western Association of Schools and Colleges.
"She was never shy about giving her opinion and justifying her thoughts," she said. "She had a heart of gold.
Above all, says Youngblood, it's Cooley's relationship with his friends and family that has brought him the most joy.
"She had one of the most extensive networks of family and friends I have ever seen," she said. "I don't know how I was lucky enough to have Diane Porter Cooley as my mother."