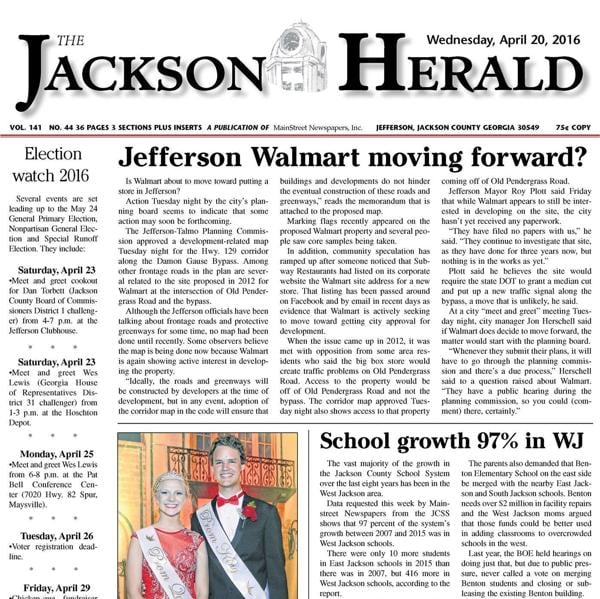 BUFFINGTON: Preserving farmland is also important | Opinion
The aesthetics of the landscape is one of the main reasons people say they move to northeast Georgia. People love the "rural character" and small towns, especially if they are moving from a heavily urbanized area.
And yet the very fact that people move to rural areas destroys what they say they love.
We see this all the time with citizens complaining about new housing estates or new industrial/commercial developments – they rarely stop to consider that their the subdivision is also part of the problem. (Ditto for traffic – people often perceive that other people's cars are the problem and not their own vehicle which is helping to clog the roads.)
At the heart of it all is the transformation of rural farmland for residential or commercial purposes. Where once there was a field or a forest, there are now houses or industries.
This dynamic is happening all over the country as urban areas expand into suburbs, then suburbs, then countryside. Land that was once a farm is being chewed up for other development.
An online map from the American Farmland Trust shows it to be in bright colors – parts of Barrow, Jackson and Banks counties are highlighted in bright red, indicating areas where formerly farmland is covered by housing estates .
One of the big issues is this question: how can rural communities protect their agricultural heritage? How does a rapidly developing community maintain rural aesthetics when agricultural fields are worth $100,000 an acre to developers for residential or commercial use?
Many people want local zoning councils to take over the job of stopping or slowing growth, but that's only part of the picture. Local governments — cities and counties — should think about annexations and zoning regulations. But there is a huge financial incentive for local governments to tip the scales in favor of business development due to the high taxes that industries and businesses pay. Governments want corporate tax money to help subsidize residential taxes, which typically don't pay their fair share of the expenses they generate (especially in the cost of local schools.)
Some small towns also want more residential growth. Part of that is political ego, but a lot of it is also practical. When you get enough population, retail stores, restaurants, and recreational facilities become more viable. Small towns may not want to be urban, but many want to be bigger in order to attract more amenities.
So how do communities help protect their rural aesthetic of scenic farms and fields in the face of financial pressures?
It may seem obvious, but the answer is simple: allow people to farm on a small scale.
Well, maybe it's not that simple. Really, it's a bit complex.
The truth is that no one today can buy land to farm in many parts of the country. No farmer is going to pay $100,000 an acre for a field to graze his cows on. The economy often doesn't work for farming unless you inherit the land; buying land to cultivate often does not work.
While some remote areas have more affordable land, being too far from population centers or farming on poor land is also not economical. The most efficient place to farm is near urbanized areas where there is a market for agricultural produce, but these places are also the least affordable.
Of course, some resources are available. Most counties in Georgia offer tax breaks for farmland, and the USDA also offers loans and programs. There is a huge amount of information online to help small farmers and local farming groups also provide training and support services.
Even so, the cost of land is a major obstacle for even the smallest of farmers.
This is partly due to the impact of Covid. There's a good article in the NYT this week about how the pandemic has prompted well-heeled New Yorkers to buy land in the Hudson River Valley to escape. The downside is that, although some of this land is preserved, the move has increased the cost of land in the area, making it unaffordable for those who really want to farm there.
Several options should be explored:
• The creation of more passive public parks where local governments purchase scenic or historically significant rural areas so they can be preserved undeveloped. Jackson County has done this several times in recent years, but more should be done in northeast Georgia to acquire scenic landscapes. As Banks, Barrow, and Jackson counties consider their next SPLOST allocations, consideration should be given to setting aside money for passive parks (not recreation parks, but undeveloped spaces).
• Local governments should pursue a system of transferable development rights (TDRs). This system is complex, but it essentially allows a landowner to sell their development rights (via a deed restriction) to a developer who can then use that credit to build higher density housing in another location where that is more appropriate. Given the large number of political jurisdictions in our area, I'm not sure how this would work, but it's worth looking into.
• Fine-tuning of local zoning regulations could go a long way in moderating development. Most counties in the region are in the process of updating their codes and some local governments have put moratoria in place on certain types of developments as they rework their codes. Low density developments for housing might have some benefits (less traffic), but that alone does not protect farmland or special rural scenic areas. Future land use maps should be reviewed to update various development corridors, but also to delineate important rural areas that will not be targeted for residential, commercial or industrial development in the future. Future land use and zoning maps are not set in stone, but the preservation of agricultural land has economic value and this should be taken into account.
• Each community in the area should host a Land Preservation Summit that includes representatives from all local governments, chambers of commerce, the Farm Bureau, interested citizens, and others with an interest in land preservation. rural farmland for its aesthetics, conservation and agricultural value.