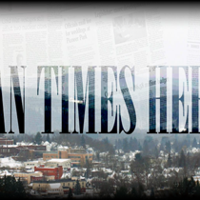 Cattaraugus County Legislators Agree to Add 509 Acres to Agricultural District | News
LITTLE VALLEY — Cattaraugus County lawmakers approved the addition of more than 509 acres to the county's Consolidated Agricultural District following a public hearing Wednesday.
The new acreage was in the towns of Conewango, Randolph, Ischua and Little Valley. There is a 30-day period each year to apply for inclusion in the agricultural district.
After the Farm District public hearing, Sheriff's Chief of Detectives Jordan Haines briefed lawmakers on the department's gift of retired body armor to Ukrainian civilians in the wake of the recent Russian invasion.
Haines said body armor is replaced by the sheriff's office after five years. It is this armor — bulletproof vests and helmets — that is transferred to Ukrainian civilian groups who will put it to good use in wartime.
"We are happy to donate the body armor," Haines said. Additional armor is expected to be donated to the group organizing the collection and shipment of Western New York law enforcement equipment in a second round of collections.
Duflo Spray Chemical Inc., Lowville mosquito larvicide and adulticide spray offers approved. It will cost $54,306 to spray larvicide on 4,249 acres and $50,880 to spray insecticide on 11,590 acres.
Lawmakers have approved a $389,686 bid from Hunting Valley Construction, Cheektowaga to replace Mansfield Bridge No. 50 on Hinman Hollow Road over Mansfield Creek. Inspection services by Greenman-Pedersen Inc., Buffalo for $25,000 was also approved.
Table-top exercises for first responders involving dam installations on the Ischua and Conewango creek watersheds were also permitted. Bergmann Architects Engineers Planning, Rochester, will receive $6,500 for presentations over two days.
The drills are designed to introduce first responders to different scenarios involving a breach in one or more dams in watershed protection districts.