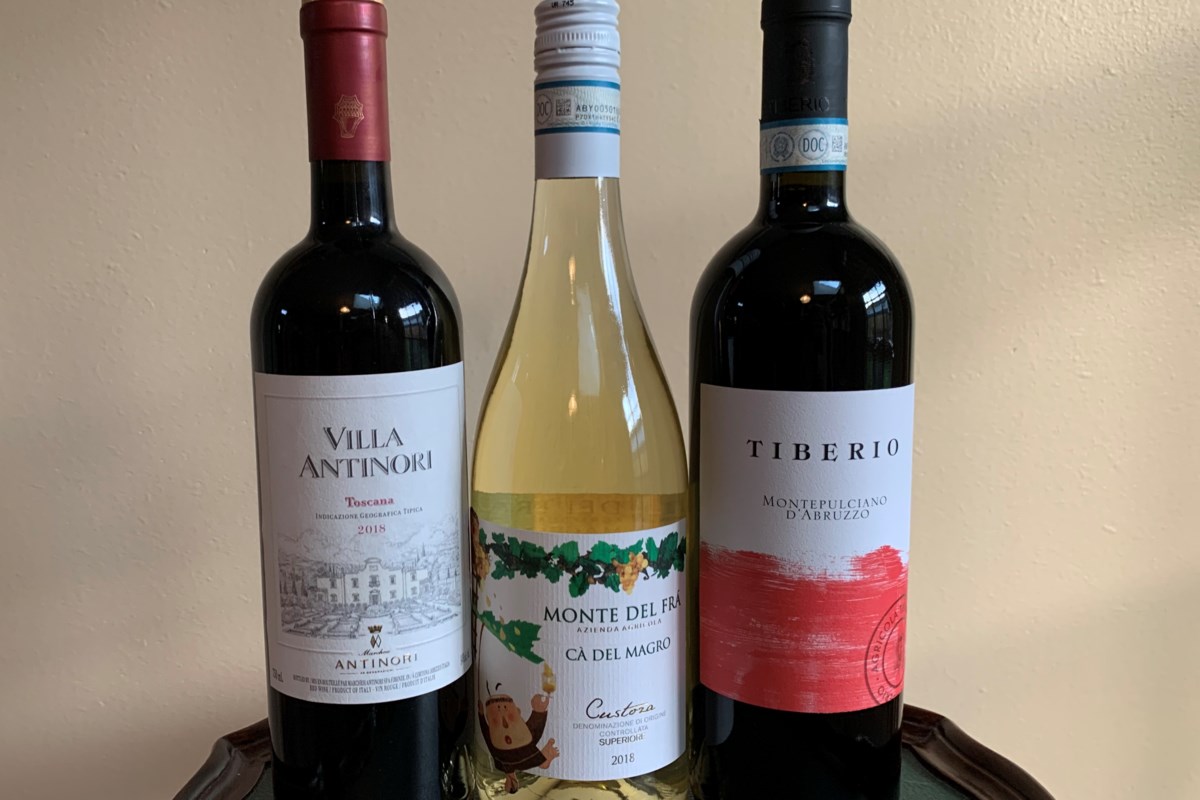 Chronicle: Two reds and a white from the land of wine
Two reds and one white from wine country
Today we travel to Enotria, the Land of Wine: Italy. Italy is the second largest wine producer, just behind France. And what's fascinating about Italy is that they have so many delicious wines, including so many native varieties that aren't planted anywhere else.
For a delicious dry white, I highly recommend the 2018 Monte del Fra Custoza Superiore DOC ($21.99; 93 points). Family wine estate in the heart of Custoza and Della Valpolicella in northern Italy, its name (Monte del Fra) means land of the monks where a monastery was built on the land in the 15th century. Unlike most white wines, it contains five grape varieties: Garganega, Trebbianno Toscano, Trebbianello, Cortese and Incrocio Manzoni.
Monte del Fra displays a medium lemon color and exudes a complex aroma of wild white flowers, Golden Delicious apples and vanilla. There are layers of flavor with ripe quince, pear, earth, spice and lip-smacking flavor with a long dry finish of juicy tree fruit and orange zest. This is one of my favorite Italian white wines. Great for sipping and pairs well with oysters, sashimi and whitefish.
Italy is famous for its red wines, and a great wine to try is the Villa Antinori 2018 Toscana IGT ($27.00; 92 points). The Antinori family has been producing wine for over six centuries and is known for making innovative decisions while respecting traditions. They produce Chianti Classico wines under the Marchese Antinori and Peppoli Estate labels. Tignanello was their innovative wine released in the early 1970s. It was the first Sangiovese to be aged in barrels and the first contemporary red wine blended with non-traditional Cabernet Sauvignon and Cabernet Franc.
Toscana is an elegant medium-bodied blend of Sangiovese with Syrah, Merlot and Cabernet Franc. Its IGT appellation (Indicazione Geografica Tipica) makes it possible to add foreign grape varieties.
Bright red, the Toscana reveals a delicious floral aroma of violets with lots of ripe dark fruit and earthy notes. On the palate, there are dark plums and cherries, leather and licorice, with traces of tobacco, grilled meat and spices. The tannins are melted and the wine is drinking well now. I enjoyed it with a grilled hanger steak on pappardelle with Arrabiata sauce.
Here's a dark, moody red that will take several hours or even overnight to breathe. It's the Tiberio Montepulciano d'Abruzzo ($25.99; 89 points).
Montepulciano d'Abruzzo can be cheap wines that sell for $12 a litre! Tiberio is in a different league. It is a relatively young winery whose founder discovered an ancient vineyard of native grapes in this mountainous region between the Apennines and the Adriatic Sea.
It is bold and structured with a very dark inky purple color with a ruby ​​rim. At first it had a delicate aroma of red and black fruits with hints of gunflint and smoke. After a day of decantation, the aroma reveals ripe plum. There are plenty of savory flavors as soon as it is opened, with a red cherry, pomegranate, tar and chili finish. It has a medium-weight body with grippy tannins. A cellar three or four more years would sweeten them, as would enjoy them with protein like a hearty beef stew or a meaty pizza.
Cristiana and Antonio Tiberio run the estate founded by their father Riccardo. The Montepulciano is sourced from 55-year-old vines and fermented and aged in stainless steel. New York Times wine critic Eric Asimov says Tiberio is a good, simple, everyday wine, "one that can be opened without ceremony or permission, holds an exalted place in my heart. These are the most expensive bottles for wine lovers.
Asimov takes care to define simple. It's not 'thoughtless' or 'trivial' It uses simple in terms of farming and production. "The simpler the processes, most of the time, the better the wine."
Today's three choices are available in BCL stores.