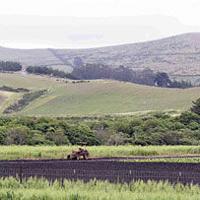 Coastal farmland preservation expands: Nonprofit POST leases 74-acre site from Blue House Farms | Local News
San Mateo County's scenic coastline offers more than beautiful beaches and recreational exploration, it's home to a rich agricultural industry that a local nonprofit seeks to protect. Working to preserve farmland on the coast, the Peninsula Open Space Trust has partnered with local organic farmer Ryan Casey to keep a 74-acre farm in production.
The arrangement is part of POST's Future Farmlands Initiative, through which it hopes to triple the number of protected farmlands in San Mateo County over the next decade.
Despite the fertile soils and spectacular open space views of these coastal farms, various sites are likely to develop as long-serving farmers retire and fewer enter the laboring industry. With more than a third of the county's farmland lost in the past 30 years, the nonprofit POST has launched the initiative to permanently protect two dozen farms.
"It's an incredible opportunity for me to secure a long-term lease with an option to buy on such an incredible stretch of coastline," Casey said. "Farming is an incredibly challenging profession and I think over the next seven to ten years it will only get harder and harder. Despite the growing interest in organic foods, farmers are under incredible pressure from many different directions. POST, their main role that they have played in helping me, is to provide me with land to grow and a long-term lease that helps with stability.
Last week, POST announced it would once again be working with 10-year-old Blue House Farm owner Casey to keep the 74-acre San Gregorio site arable and productive.
From organic fruits and vegetables to fresh flowers, Blue House products can be found at a range of local farmers markets and restaurants. Casey was chosen after a competitive process and review of 10 applicants, and the new deal will double the amount of land Blue House manages on the coast, according to POST.
"I have always been an organic farmer and I grow organically because I strongly believe that an organic vegetable is healthier for the people who eat it, and organic farm workers work under safer, more many of the practices of organic farmers are beneficial to the soil and water around them, to wildlife and to the environment in general," Casey said.
Casey now actively grows vegetables on 20 acres of his new farmland while planting cover crops and grazing sheep on the remaining portion as he prepares it to qualify as organic. Blue House is also growing on an additional 30 acres in Pescadero.
"We worked with Ryan [Casey] since he started his business 10 years ago on POST's Cloverdale Coastal Ranch property. He was deeply committed to creating a sustainable and thriving local food system and is a leading voice among a growing number of eco-conscious farmers on the coast," said POST Director, Land Stewardship, Daniel Olstein, in a press release. "Ryan shares our vision for the property – to keep the rich soils productive and the rugged natural values ​​protected."
The non-profit organization announced that it chose Blue House Farm based on ecological, economic and social factors. In addition to selling directly to the public at local markets, it also hosts a Community Supported Agriculture program through which members can receive weekly boxes of fresh produce, as well as a farm stand on San's new property. Gregorio, according to POST and Casey.
"Farmers like Ryan take care of the land in a very unique and meaningful way. They nurture it for its productive potential, as well as for the beneficial role its natural resources play in the wider ecosystem. At the same time, they are an important conduit for connecting others to the land with the food they grow," POST President Walter T. Moore said in the statement. "Every time I walk past this property and see the Blue House Farm sign it reminds me of that and I'm incredibly proud of POST's role in fostering these connections and helping such amazing stewards access to viable farms and agricultural land."
POST purchased the 74-acre property in March 2015 for $3.1 million from the Muzzis, a longtime farming family. The acquisition, which included POST's permanent protection of the site with an agricultural easement, is part of its Future Farmlands Initiative. Launched in February, the initiative aims to raise $25 million to permanently protect 22 additional farms on the coast and double the existing acreage from 750 to 1,500 acres of preserved farmland. The 10-year initiative has raised $9.6 million to date, according to POST.
The announcement of Blue Farms' choice to manage the San Gregorio property comes shortly after POST announced the purchase of another 96-acre farm along Highway 1. POST has secured the site for 3 .3 million and will keep it operational by continuing to lease it to Les Marchis. , another farming family. In the long term, POST plans to sell the property to a private farmer on the condition that it is protected by an agricultural easement.
Casey, a 39-year-old graduate of the University of California, Santa Cruz, noted that programs like POSTs are helpful in ushering in a new generation of farmers and preserving the industry.
"It's a difficult area to access land and a lot of the farmers here on the coast are multi-generational land that is passed down to families, which is happening less and less these days," Casey said. "As family farms are in decline, they have been able to step in and help new farmers like me gain access to land and provide a lease that can provide the stability that family farms have historically had."