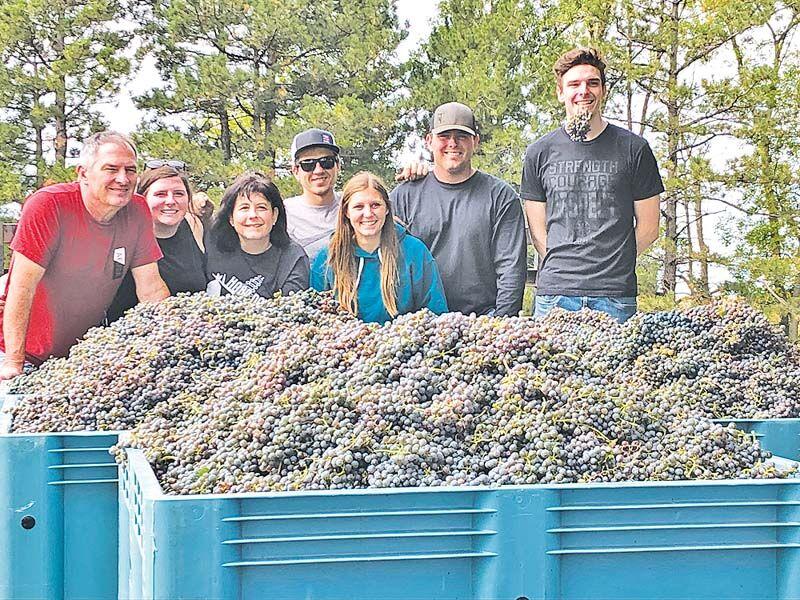 Land Minds: Yes, gargantuan harvests too! | New
Webster's definition of the word gargantuan reads: "Of enormous size or bulk." Also includes synonyms enormous, colossal, gigantic, monstrous. Suffice to say that the harvest of September 18 RockinMCultivateThe three acre vineyard on the north side of Olivia was spectacular! This is of particular importance to me because 15 years ago I planted 600 grape plants to start this incredible story.
Greg and Dawn Merten's invitation to the event was irresistible. He was reading, "Join us anytime and for any duration. Come help out or just watch and talk smart. Three other things to note: breakfast at 8 am; start of the harvest around 9 am; drinks and lunch provided.
Thanks to Greg's meticulous care, his vineyard has acquired a dignity of stature and abundance. Yes, the vines require a lot of work; and years ago, when I was transferred to the "aging senior" category, my wife and I felt that a change of direction was needed. Mertens to the rescue… their vineyard is truly magnificent. And so my wife and I responded to the invitation – but not to take back the pleasure of harvesting this unique harvest by hand.
Yes, we know it requires a fair amount of bending, squatting, twisting, and rotating while cutting the dozens of bunches of grapes hanging from each vine. My wife and I coaxed a dozen dear friends to help us. Our only offer was a few beers and a few pizzas. And our good friends always agreed – telling us it was a treat they always looked forward to. This is real friendship!
Much the same comments from the 30+ people who helped Greg and Dawn's amazing harvest. A total of 6,509 pounds was harvested that day. The total harvest of all varieties for the 2021 season was 6,840 pounds! The previous best was 2019 at 3,840 pounds.
Yes, a modest Greg admitted: "It was indeed a special harvest. Because the grapes are deeply rooted, I was not concerned about this continued drought. Also, this year I pruned the vines for longer – leaving extra buds on each spur. Maybe it spiked bigger clusters. Lots of sun and growing days this season too. Most important, however, was the love and guidance of God.
Grandview Valley Winery in the Minnesota River Valley near Belview, Minnesota purchases Greg's production. "They were very helpful and responsive. This is perhaps understandable since the income of any winery depends pretty much directly on new bottles of wine supplied each year. Plus, with the drought season likely having an impact on Midwestern vineyards, Greg's sizable harvest was indeed much appreciated.
However, in addition to delicious meals served at this winery nestled in the beautiful wooded valley of the Minnesota River, the Grandview Valley Winery sells to liquor stores across the upper Midwest and across Canada.
Yes, the winery provided five huge bins for Greg's flatbed trailer parked at the north end of his vineyard. Last year's harvest ended shortly before 11 a.m. This year, it was 12:30 p.m. before the last buckets were emptied! Yes, the five big bins have been abundantly filled. Fortunately, 15 small bins hastily accumulated from neighboring friends welcomed the remainder of the huge harvest.
Greg admitted, "I checked my wristwatch at 8:45 am. We barely had a handful of combines. But suddenly, they arrived by the dozen. Good friends and I knew then once again that the harvest was a start.
Like Marty Athman, former Bird Island restaurateur and newbie to the Merten harvest. Marty said, "It must be this free breakfast deal that got me hooked. This project was very cool. A good example of many hands doing a short, pleasant job. It was an incredible experience for a rookie like me.
Greg and Dawn's daughter Breann, now in her fourth harvest, exclaimed, "This is Daddy's biggest harvest. It's really crazy the size of this crop, especially with the dry season. But I remember this vineyard started with you, Mr. Hagen. You came to our church youth group and asked who would like to help harvest your grapes. It didn't sound like much fun, I remember telling my mom. But we went out and helped. It was good and you donated money for our youth group. Now I am here to help my parents and to enjoy every moment. Today Brenna is 24, an interior designer and lives and works in Brainerd.
Son Cole works for the Minnesota Valley Rural Electric Cooperative in Montevideo, Minnesota and was also in good spirits helping with the harvest. "Everyone is having a good time. Yep, it's an amazing huge harvest so it's just nice to have fun and lend a helping hand.
The youngest son, Trey, was also on board for the harvest, his very first. He just graduated from Automotive Technology School in Wahpeton, North Dakota and now works at Mill's Toyota in Willmar, Minnesota.
Even BOLD Warrior sports 'music guru' Rob vanderHagen was in attendance. He jokingly expressed, "I felt guilty for doing this… but it all came together and I had a lot of fun." This included the four huge speakers that Rob uses to entertain with great music (and occasional chatter) during BOLD Warrior football games. So he just brought his music by adding: "My music motivates them to enjoy their harvest."
The newcomers (and excited to be there) were Allen and Karen Dirks, now residents of Minneapolis but former residents of Olivia. Karen said, "I had a wonderful time. It just made my whole day.
Allen added, "It's the first time and it's been great. You might have seen something like this in a movie, but you have to be here to chop those bunches of grapes to really appreciate this delicious environment. These vines that grow in this magnificent vineyard producing such a bountiful harvest provided me with a most rewarding scene.
And it was also a happy birthday party for Dawn Mertens. "What a way to enjoy my birthday – extremely fun. I had a good time. And look at all the people who came to help. It is so amazing. Yes, we are fortunate to have such good friends to help and assist us in this way.
But she is modest. Greg and Dawn are the best when it comes to providing generous friendship, delicious food, and tasty drinks at the events they host. This annual harvest at RockinMThe farm is the best example. And a generous amount of "smart talk" was provided by everyone!
Dick Hagen is The Land Editor Emeritus. He can be reached at [email protected]