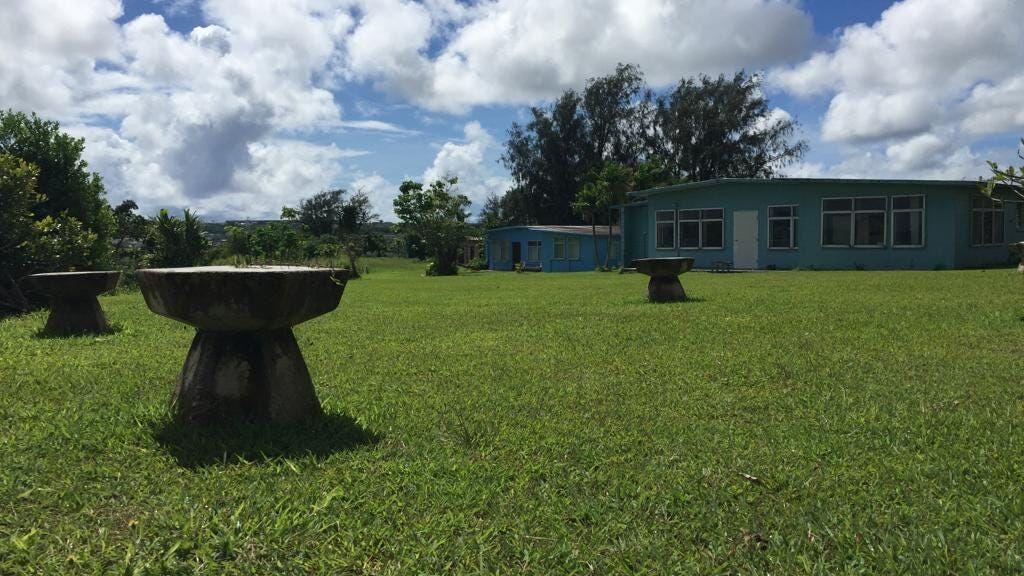 Losing Thousands of Acres of Farmland After WWII Culture
Attempts to restore Guam's pre-war subsistence agricultural economy met with little or no success, due to the loss of farmland after World War II and the island's introduction to a money-based economy.
In 1939, more than 3,800 acres of Guam were used for fruit and vegetable crops, with the exception of rice. A decade later, that number dropped to around 400 acres.
Following: Tiyan's remodeling leads to decades of compensation battles
Following: Eduardo G. Camacho forced to build airstrip during Japanese occupation
Agricultural practices
Local farmer Teresita "Terri" Quichocho recalled helping her father with his large 27-acre ranch in Barrigada.
After school, Quichocho and his twelve siblings would go to the farm, putting in between four and five hours of physical labor to help their father. According to Quichocho, they and their mother were the only farm laborers his father, the late Jesus Cruz, employed.
The family's crops were watered by hand, Quichocho said. "(My family) was filling the pickup or tractor with the 55 (gallon) drum, and we were going to water it." She described the use of buckets to transport water from large barrels to plants.
On his farm in Dededo today, his hired manager uses drip irrigation to grow eggplants, long beans, cherry tomatoes, pechay and daikon. Farm products are taken to the farmer's market.
This is another difference between pre-war and post-war farming practices.
Enough product for the family
While his father's ranch only produced enough for their nuclear and extended family, the fruits and vegetables at Quichocho's Dededo Ranch are harvested and sold by his farm worker.
Quichocho described his family's agricultural production: "We only cultivated for our own use. [didn't] sell it. At that point, we just shared it with the rest of the family – my dad's siblings and my mom's siblings. "
According to Quichocho, who was a young child during WWII, the same could be said for much of the island. "They don't even sell (their vegetables) when people were growing them," Quichocho said. "They would give it to anyone."
Quichocho said this type of community sharing is also practiced for fish and livestock.
The agricultural market is small
Today, the local farmer's market is small and there are far fewer farm workers in the current workforce than there were in the past.
When Guam was ceded to the United States in 1898, "virtually the entire population was farmers," according to a 1997 report from the College of Agriculture and Life Sciences at the University of Guam. Just before the war, in 1940, the agricultural population represented 60.6% of the island.
Following: Tiyan: from agriculture to road nightmare
Following: Capital of Guam, people changed forever after the war
Over the next two generations, this percentage dropped dramatically. In 1995, the Ministry of Labor placed agricultural employment at 0.5%. The latest figure, provided by the Bureau of Labor Statistics in May 2017, places Guam's "Agriculture, Fishing and Forestry" workforce at 0.1%.
Dependence on food imports has increased
As Guam's agricultural area and labor force declined, the island's dependence on imported fruits and vegetables increased.
Although Guam was never fully self-sufficient in terms of food production, it was only during island-wide food shortages caused by typhoons that emergency supplies would be brought in from Manila, wrote Lieutenant of the Navy William Safford in 1905.
This number increased from 1916 to 1941, when it was reported that 39% of the island's food was imported.
For a brief period, when expeditions became scarce during World War II, many local residents returned to their rural ranches and resumed subsistence farming.
Food imports have since increased and are now at an all time high.
"Today at best we probably produce 10% of our food," said Dr Robert Barber, a professor at the University of Guam specializing in agricultural economics. His intuition echoes the 1997 article, which states that "over 90% of the food consumed in Guam is imported."
Animal farm of chickens, pigs and cows
The availability of food was very different during Quichocho's childhood.
According to the longtime farmer, there were no supermarkets at the time. "We hardly buy food from the outside because we always have," Quichocho said. Her father, she explained, also raised animals.
His father's poultry farm, which had around 4,000 chickens, produced more than enough eggs for the family. Quichocho said his father will deliver eggs to Agana's cooperative, where they will be distributed to those who have placed orders.
The chicken farm has since been replaced by family homes for the sons of Quichocho.
Quichocho recalled that his father also kept pigs "across the street". To his memory, the family had over 200 pigs.
"My father also raised a lot of cows," Quichocho added. "Almost every three months we slaughtered the cow."
However, people started stealing the animals in the early 1950s, prompting Quichocho's father to close his breeding farms. "They would just kill the cow," she said. "They only took the legs … and left the whole body there."
Land now used by the federal government
What was once the Quichocho family ranch is now used by the federal government.
"Do you know where the National Guard is now, the building? It was our property back there," recalls Quichocho.
His father farmed 11 hectares, or about 27 acres, behind the Quichocho residences in Barrigada. Today, the land is "part of the airfield" of Tiyan, according to Quichocho.
The pigs and cows were kept on another 4 hectare plot "across the street" – or what is now called Route 16.
The US government now also owns this land. "You go over there and they will arrest you," Quichocho said.
"Nothing, just boonies" can be seen across the popular thoroughfare.
READ MORE:
This article originally appeared on Pacific Daily News: Losing Thousands of Acres of Farmland After WWII