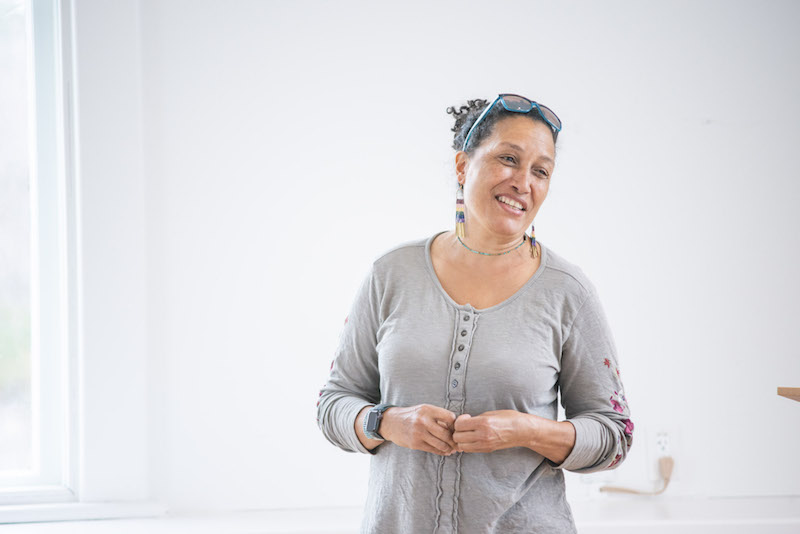 The Vineyard Gazette – Martha's Vineyard News
Juli Vanderhoop returned to the island 20 years ago for the community, she told a group of 30 people at Martha's Vineyard Museum on Friday as part of a monthly lunchtime conversation series . His speech centered on community, the importance of respecting the historic lands of the island and creating pathways for young Wampanoag to stay on the island so that these values ​​remain.
Ms Vanderhoop, an Aquinnah board member and owner of Orange Peel Bakery, said that growing up among the Wampanoag Tribe in Aquinnah, she could cycle around town on her own by the age of five years old and his parents had never had to. worry about his safety. She was one of 24 students at Chilmark School, which meant she knew everyone intimately. She returned to the vineyard so that her children, Ella and Emerson, could have the same experience.
"It was a place that gave me a lot of freedoms that I couldn't give my children otherwise," Ms Vanderhoop said.
His speech focused on the importance of giving the next generation the opportunity to live on the island. — Ray Ewing
The Wampanoag people have been stewards of the land for centuries, which makes it all the more important that they can afford to stay there, she added.
"If you don't have the ability to know where your homeland is, to know where your feet connect to the earth and the energy that comes to you because of it, then you lose the understanding of the world at large that surrounds you," she said.
Ms Vanderhoop said she feels responsible as a business owner and board member to help the next generation. She spends a lot of time talking to the younger members of the tribe to find ways to earn enough money to stay on the island.
"I am determined to help in any way I can," she said.
She remembers once attending a potluck dinner while visiting a friend in Europe. The invitation was open to all members of the community, and strangers laughed and talked together all night long. The event became the inspiration to launch Pizza Nights in Orange Peel to bring Islanders together in a similar way, sharing community and pizza toppings. The pizza parties had such an impact on her son Emerson that he wrote his college admissions essay about the people he met there, Ms Vanderhoop said.
"Community is what we've always known and what we've always come together for," she said.
Ms Vanderhoop feels a spiritual connection to the land, she said. Orange Peel Bakery is in an area known to the tribe as Black Brook, which they claim is where the spirits are. During busy baking days, when stressed and tired, she often asks for signs that her ancestors are listening.
"There are so many signs that I still see," she said. "If you think about it, if you want these things to come to you, then they will come."
To underscore this connection and showcase the island's natural beauty, Ms Vanderhoop said she never put a roof over the oven or seating area at Orange Peel.
"What I really want to show people is that the reason we come here isn't for our homes. It's for this land that's under our feet.